SINGAPORE FLYER
The Singapore Flyer is the world's largest observation wheel. A one-of-a-kind experience and built over a three-story terminal building, the Flyer is 150 metres in diameter, 165 metres high, and travels at 0.21m per second (it is some 30 metres taller than the famous London Eye!). With breathtaking panorama views that are so radically different during the day and at night, it's hard to choose the best time to take a ride, but our favourite time to ride the Singapore Ferris wheel is around dusk, when the sunlight gives way to millions of sparkling lights.
MERLION SINGAPORE
The Merlion is the mythical symbol of Singapore and easily the most popular attraction on the whole island. Come to visit this half-fish, half-lion statue during the day to witness crowds of tourists all bustling for position for Singapore's most sought-after photo-op in front of the 70-tonne concrete figure, which stands 8.7 metres tall and has a fountain of water spurting out into the picturesque Marina Bay. You can find the statue at Merlion Park, situated at One Fullerton near the waterfront at Marina Bay.
MARINA BAY SANDS SKYPARK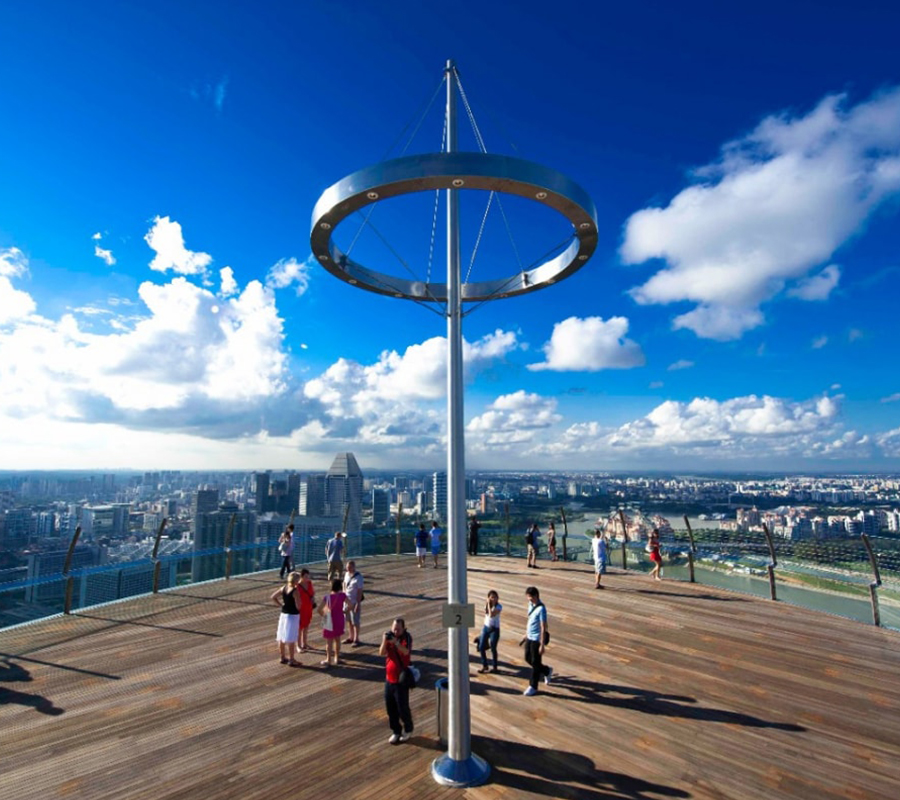 Marina Bay Sands SkyPark really offers a taste of the highlife by viewing Singapore from above. This large wooden deck on top of iconic Marina Bay Sands hotel at the edge of the city's harbour offers a 360-degree panoramic view, with nothing but a sheet of glass and a few wires between you and the view. Marina Bay Sands SkyPark has been one of the most popular attractions in Singapore since it opened at the turn of the decade.
GARDENS BY THE BAY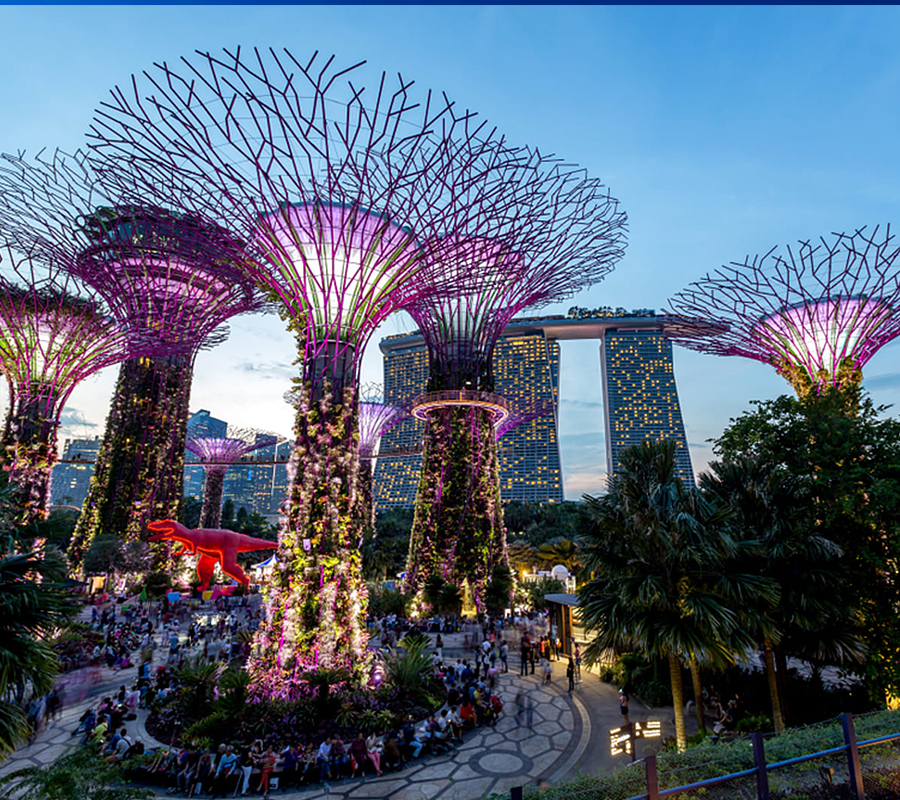 Gardens by the Bay is a huge, colourful, futuristic park in the bay area of Singapore; and has been crowned World Building of the year at the world Architecture Festival 2012. The famous Supertree structures offer an impressive skywalk over the gardens, over-sized seashell-shaped greenhouses recreate chilly mountain climates and there are hundreds of trees and plants to discover, making this destination great fun for both kids and adults.
UNIVERSAL STUDIOS
Universal Studios Singapore is the first amusement park of its kind to open in Southeast Asia. The park has more than 20 attractions in themed zones including the Lost World, Ancient Egypt, New York, Hollywood, Madagascar and Far Far Away (remember Shrek?). Regarding the rides, two are water themed and five are thrilling roller coasters of which two of are currently the world's tallest 'dueling' roller coasters.
SENTOSA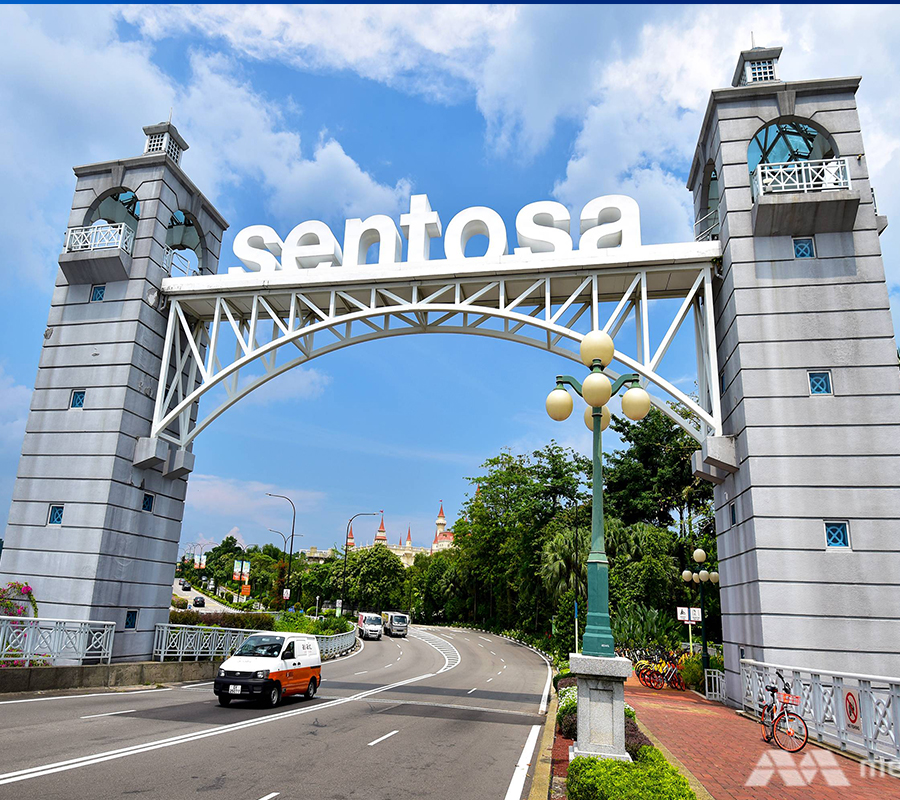 Sentosa is an island resort off the southern tip of Singapore which was built with leisure and relaxation in mind. A collection of beaches, theme parks, golf, shopping, dining and more are all available on this strip of reclaimed land that can be reached by road or cable car. Authentic it's not, but if you want to add a bit of fun to your Singapore trip then Sentosa is the place to do it.
NIGHT SAFARI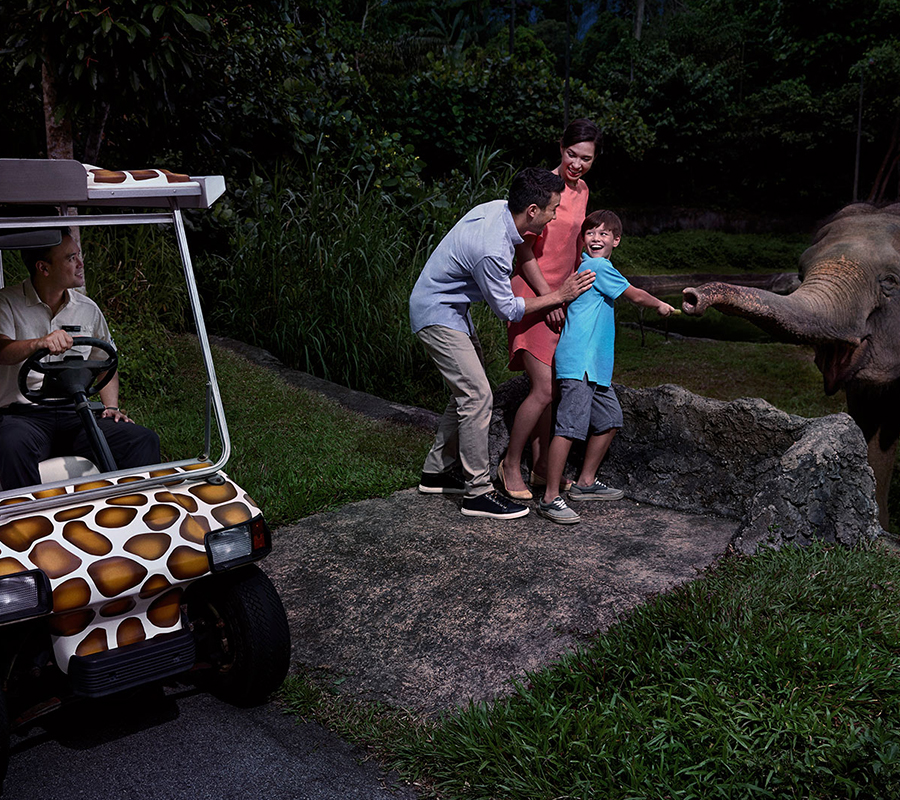 Singapore Night Safari is truly a unique attraction. It is not only an interesting place worth a visit but a leading conservation and research centre in Asia. As a zoo it offers an unusual glimpse into the nocturnal animal kingdom, with more than 59 exhibits and 1,000 animals to be seen from around the world. These include Himalayan griffon vultures, greater one-horned rhinoceroses, wildebeests and gazelles. You can simply start with the 'Creatures of the Night' show for a good 20-minute overview of the animals to be seen here.
SINGAPORE ZOO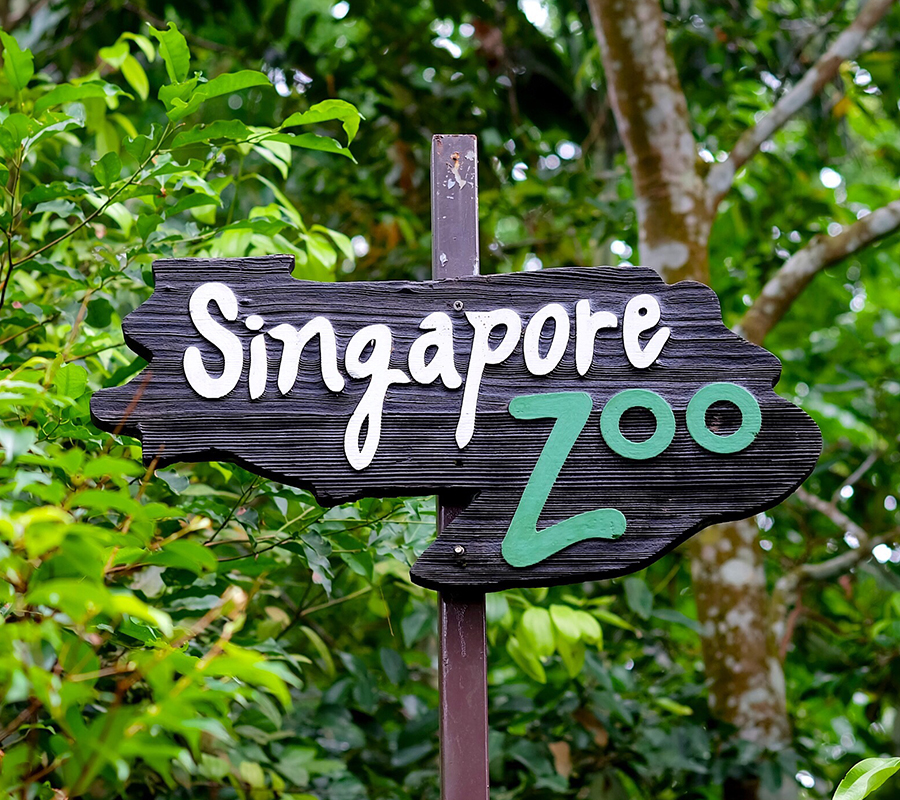 White tigers, pygmy hippos, and even naked mole rats — get up close with these wildlife and more at Singapore Zoo. The 26-hectare wildlife park, home to over 300 species of mammals, birds and reptiles, has been providing exciting wildlife experiences to visitors for over 40 years.Singapore Zoo features 11 zones, each taking you through some of the most distinctive global wildlife habitats in the world. Go nose-to-nose with Inuka, the first polar bear born in the tropics.
RIVER CRUISE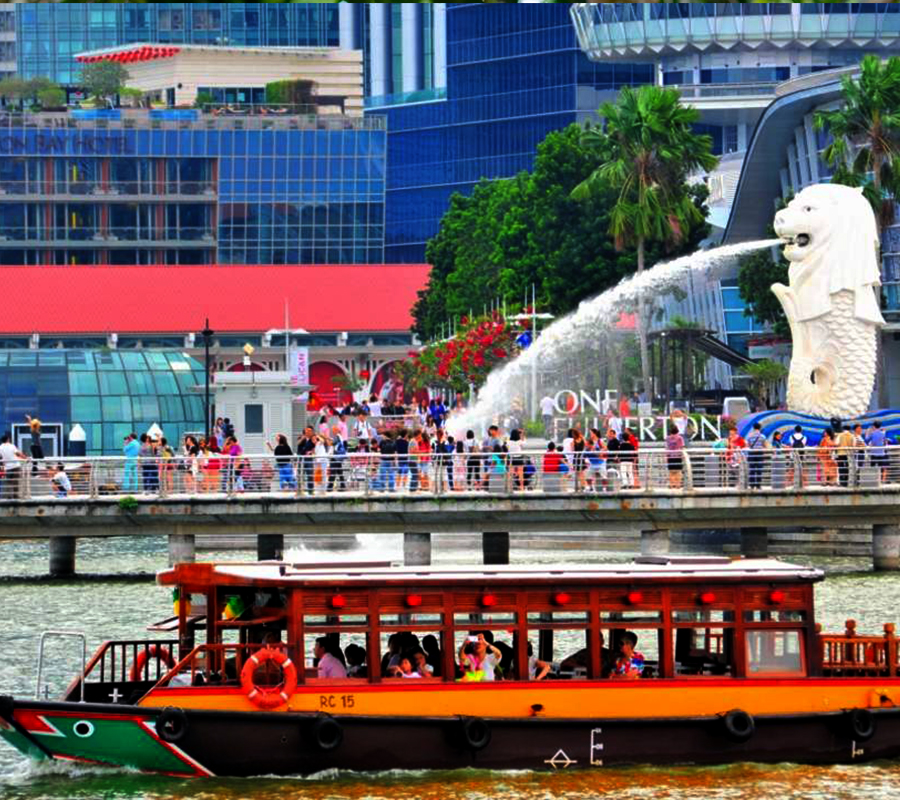 The Singapore River, which cuts through the heart of the city, was for many decades the main artery of trade and commerce for the British. Today, the stately Victorian and neo-classical Roman structures still stand proudly along the river banks, but they jostle for space with the many concrete-and-glass skyscrapers that have shot up in more modern times. The best way to view many of the buildings, statues, monuments and museums that Singapore has inherited from its colonial past is to take a walk along the Singapore River, or a river-boat tour that starts at Clarke Quay.
BUDDHA TOOTH RELIC TEMPLE
The Buddha Tooth Relic Temple is a remarkable four-story temple. When entering the gate, you'll immediately notice the stunning main hall with its high ceiling. The bell tower and drum tower are on the same floor. However, the main focus for most visitors is the solid gold two-metre stupa on the fourth floor which is the place where the sacred relic is kept. Continuing up to the roof, there is a pagoda that has a large prayer wheel. The temple is built in a style based on the Buddhist mandala and integrated with the Buddhism of the Tang dynasty.
ARTSCIENCE MUSEUM SINGAPORE
Shaped like an outstretched hand – or perhaps even a bunch of bananas – the ArtScience Museum sits on the waterfront in the shadow of Marina Bay Sands, and provides the city with ever changing displays, from Dali to Harry Potter. A place of great interest for children and adults, a visit here is both entertaining and educational, exploring the links between art and science. The gallery is impossible to miss, on the bay side walkway of the famous Marina Bay Sands Hotel, ten minutes' walk from Bayfront MRT Station.
CHINATOWN
Chinatown is another Singapore icon; great for shopping, to see all kind of important attractions and to try out authentic Chinese food. There are countless restaurants and hawker food vendors to choose from. Learn more about its history from the Chinatown Heritage Centre on Pagoda Street. Its main focus is on the Chinese immigrants who lived a hard life and were the main group of people who founded Singapore. Other attractions include Thian Hock Keng Temple, the oldest temple in Singapore, Buddha Tooth Relic Temple, Eu Yan Sang Chinese Medical Hall and Maxwell Road Food Centre.
ORCHARD ROAD
One of the most iconic streets in Singapore, Orchard Road is the epicenter of shopping in Singapore and is similar to London's Oxford Street or Hong Kong's Nathan Road. Flanked on both sides by local and international department stores, tiny boutiques, offices, spas, beauty salons, hotels, entertainment spots, restaurants, and cafes, you could spend a whole day trawling the main thoroughfare. Shopping malls along Orchard road are stocked with practically everything under the sun. Plus, there is always some kind of fair or activity taking place in the malls and shopping centres so there is probably more things to do Orchard than anywhere else in Singapore.
ADVENTURE COVE WATERPARK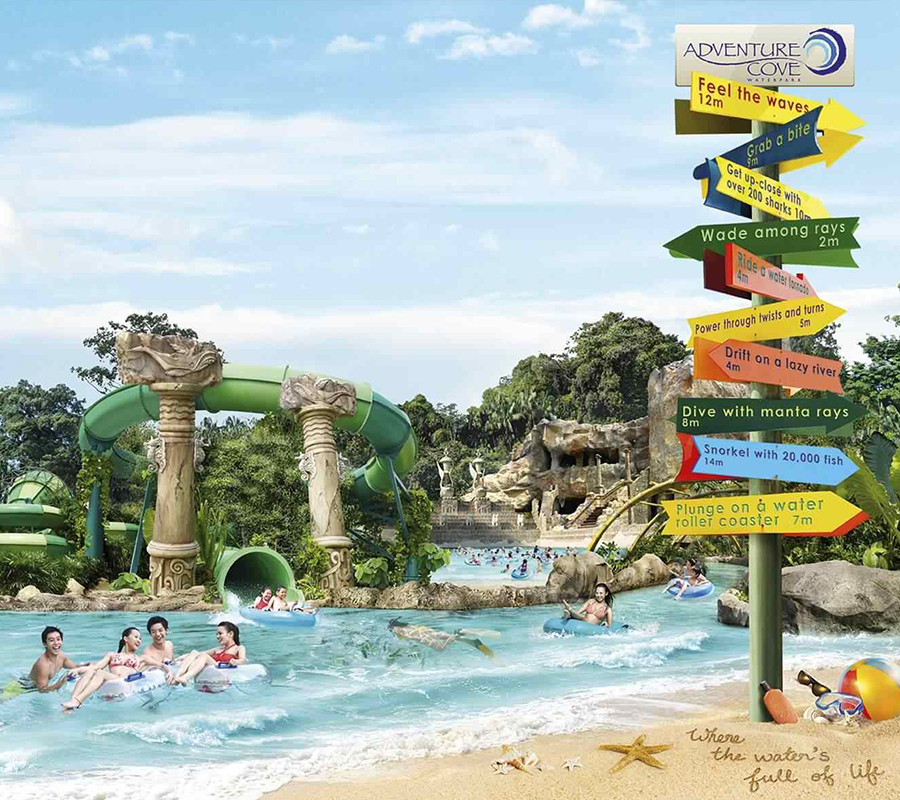 Adventure Cove Waterpark Singapore at Resorts World Sentosa has enough fun rides and slides to satisfy the thrill seekers, and also has a range of other water-based activities for those not so fond of hurtling down huge tunnels or spiral around giant funnels in rubber rings. Whilst this waterpark offers seven different adrenalin-filled water rides, it's their more unique attractions like Ray Bay and Rainbow Reef (that allow you to get up close and personal with over 20,000 fish), which really sets Adventure Cove Waterpark apart from the rest of Sentosa's never ending list of attractions.
S.E.A AQUARIUM SENTOSA
SEA Aquarium on Sentosa Island is one of Singapore's finest family-friendly, all-weather attractions. It's also one of the largest aquariums in the world, with over 100,000 aquatic animals to discover. There are creatures from all the world's major oceans, with tanks specially designed to recreate the conditions of their natural habitats. There are 10 zones and 50 different habitats, all within this huge venue. We advise allowing at least three hours to explore Singapore's best aquarium properly. SEA Aquarium Singapore is very entertaining, but they also try to educate by teaching that small actions taken by humans can have a big impact on the world.
CRANE DANCE
The Crane Dance a light and sound show on Sentosa Island that holds the title of 'the largest show animatronic show in the world'. Measuring over 30 metres tall, the two steel cranes move through jets of water, to a kaleidoscope of colour and a soundtrack of emotive music. The premise is simple, the blue crane and the pink crane fall in love with each other – but there is still something magical about this performance. Flashes of light and dramatic music accompany the performance as the large steel structures move gracefully through the night sky; and their chests are emblazoned with large screens that add an extra dimension to the story, which ends with the cranes flying away into the night.
NATIONAL STADIUM
The National Stadium in Singapore opened in June 2014, replacing the old Kallang Stadium on the same site. The brand new all-purpose sports arena is where you can watch the Singapore National Football team play their home matches, as well as exhibition cricket, rugby, athletic and live music events. The stadium is by far the biggest in Singapore, holding up to 55,000 people – although the customizable seating can be reduced for smaller events. The spectacular dome-shaped stadium is visible from all over Singapore, with its retractable roof and red/white seating making it stand out as one of Singapore's most famous landmarks.
WILD WILD WET
Wild Wild Wet Singapore is one of the most popular waterparks in the country, promising an action-packed day of water-filled fun. There's a good mix of adrenaline-filled slides, as well as plenty of gentle flumes and pools to please family members of all ages and tastes. Located at Downtown East. There is a full list of ticket and package details on their website, although there's no need to book tickets in advance. Top rides at Wild Wild Wet Singapore include the crowd favourite 'Ular-Lah' – the first white water raft slide in Southeast Asia, as well as the 'Shiok River' that floats you along a gentle stream.
LITTLE INDIA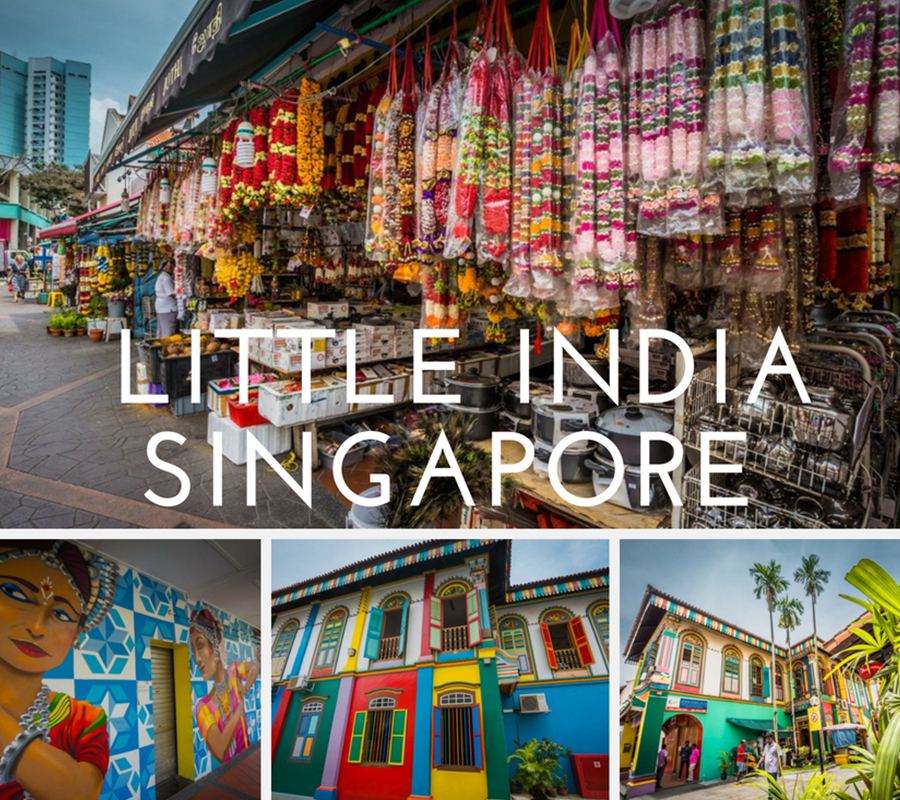 All the must see attractions in Little India Singapore are within walking distance from one another, meaning that you could squeeze in the whole of our top 5 into one day of discovery and adventure! This bustling neighborhood is one of the most compact in the country, so the number of attractions is inevitably limited, meaning the emphasis is more on quality rather than quantity of interesting things to do and see. Of course, no visit to Singapore's Little India district would be complete without a trip to a temple of some sort; Hinduism, Buddhism and Islam all run through the core of this multiethnic, multicultural community, and the number of religious buildings here per-capita is higher than any other place in Singapore.
CLARKE QUAY
The best attractions in Clarke Quay offer visitors a great range of alternative things to do and see that doesn't purely revolve around nightlife. Sure, Clarke Quay is famous for its stunning waterside restaurants and exciting collection of bars and clubs, but the area has so much more to offer. Most of the top-rated attractions around Clarke Quay are walking distance from MRT stations, and our carefully chosen selection includes a host of family-friendly activities and cultural visits that are perfect for the day time hours – leaving you plenty of time to enjoy that thriving Clarke Quay nightlife when the sun goes down.
BUGIS AND KAMPONG GLAM
All the best attractions in Bugis and Kampong Glam area revolve around the area's thriving cultural scene. These two vibrant and ethnically diverse neighbourhoods merge into one another, creating a melting pot of religion, architecture, shopping and cuisine. We have pointed you in the direction of a couple of famous streets that no visitor to the area should miss, as well as the most impressive religious buildings and sites.